KIDS INDOOR SOCCER with MEDFORD PARKS AND RECREATION
We are so excited! Olivia is finally old enough for the kids Indoor Soccer League through Medford Parks and Recreation. She was actually old enough back in June but this mama was taking a break from organized fun for the summer and now I am getting back into the swing of scheduled practices amongst all of the other fun we do as a family!
Kids Indoor Soccer starts at age four through Medford Parks and Recreation and it is very reasonably priced, especially if your kids are just trying it out for the first time. Ilias played for three years and it was such an awesome program to introduce him to organized sports. Maybe we got lucky but every coach we have had was so very patient with his high energy…and sometimes so very, lie on the floor and play possum, low energy. The coaches are all parent volunteers that take their time from their busy schedules to teach our kiddos to attempt to master the sport. We have practice once a week and then once the season starts, games are 45 minutes long on Saturdays. It's the perfect way to start the weekend.
Talk about entertainment! It is so much fun watching the little kids run around the court trying to find some soccer in the comedic chaos that ensues at the beginning of the season. With patience and practice it all starts to come together and before we know it, they actually start to look like they are playing soccer!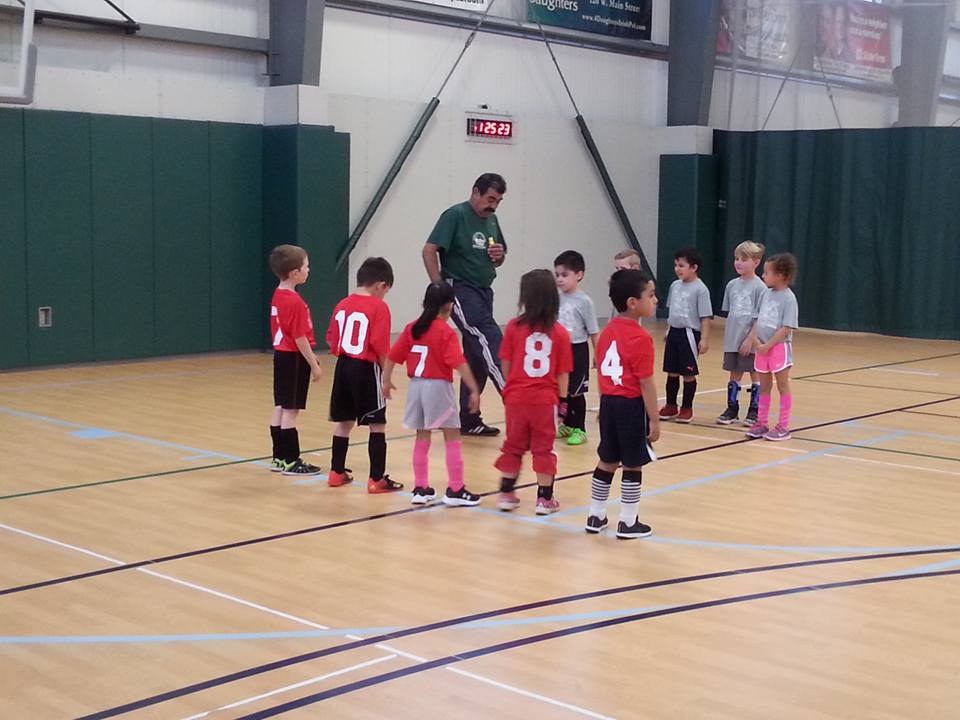 Olivia is making new friends, learning new motor skills and coordination, and getting energy out. Plus, she is having a blast, and that is all we can ask for. It has been more than 5 years since Ilias played and he still talks about his first coach Troy. It really is such a fun league and your child will make life long memories and maybe even some lifelong friends.
If you want your child to try the program out their are sessions year round to register and for more details just go here.
Some other great programs that we have participated in through Medford Parks and Recreation is the NFL Flag Football and Junior Giants (Ilias tried them all out and still hasn't decided his sport). NFL Flag Football is a lot of fun and the kids really learn the basics of the sport in a fun a relaxed environment. Junior Giants is completely free and it is sponsored by the San Francisco Giants. It is a non-competitive league that teaches not just baseball, but good sportsmanship and teamwork. It is so fun for the little ones because honestly when Ilias first started the majority of the kids sat digging in the dirt with sticks half the time and no one really got upset since it was non-competitive!
There are so many other great programs through Medford Parks and Recreation; if you are interested you should check things out on their website.
For more fun for kids, families and everyone check our Events Calendar; updated daily!