CHRISTMAS TREE HUNTING IN SOUTHERN OREGON
When fall hits, before it even starts snowing we start planning our annual Christmas tree hunting trip with our friends. Now, you don't have to even cut a Christmas tree, (confession we are of the sacrilegious group that has a fake tree, though it does come from family traditions of my husband's military family 😊)
Priorities first, we always stop for some coffee and hot cocoa at Dutch Bros or Human Been to make sure that we are warmed up for the drive. At the first sight of snow our kids basically try to crawl out of the window, so when we actually get to our destination they always jump right out to start the first snowball fight!
Once we get everyone bundled up, we break out the sleds for the fun to ensue. Since we try to get out early in the season the snow is minimal but we always seem to find a spot where there is enough snow for fort building and just good old-fashioned butt sliding.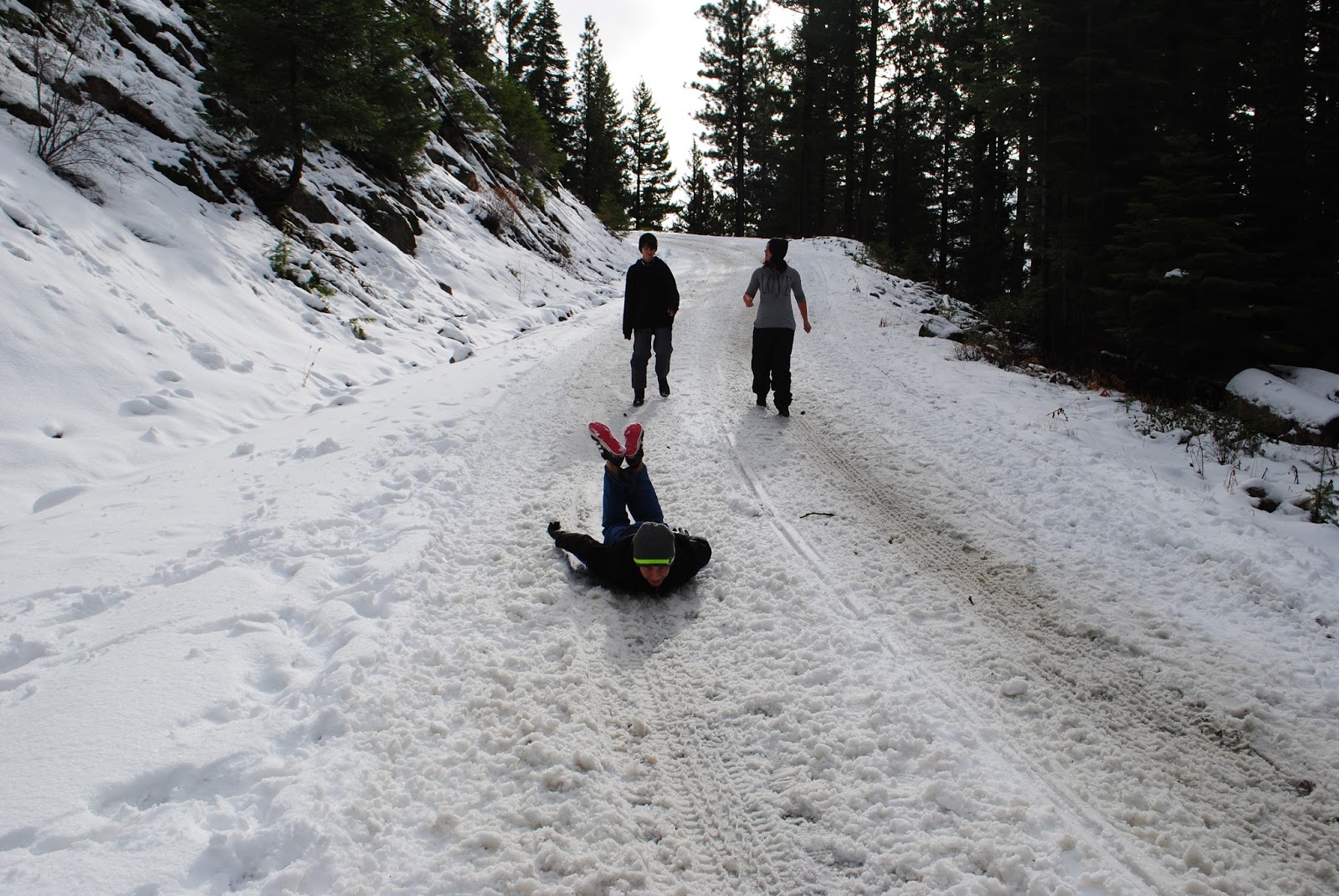 After about an hour of play, we always take a break to cook up some campfire hot dogs and slow cooker chili and to refill our hot chocolates; the adult may even spike ours with schnapps. 😉
Sometimes our crew doesn't find "the" tree in our first stop so we will pack things up to head out to look for them One year we went up Wagner Butte in Talent and were heading up the road to keep looking. We were in a caravan of five cars and we were bringing up the rear. Suddenly, everyone stopped dead in their tracks so we knew that something was up. The snow had gotten too deep for regular 4-wheel drive cars so we had to turn around. As we went around a corner we ran into a truck whose 4-wheel drive had gone out so we decided to pull over so that Gary could see if he could help.
It ended up being one of the funnest parts of the trip. Since we all had to drive around the trapped vehicle the snow was of course a little deeper. So, what do you think happened? One of our friends got stuck. Now the whole road was impassible and soon there were five more cars piled up behind the trapped cars. It sounds like it could be a miserable situation but it really wasn't. It just added to the escapade! Fortunately a bunch of guys in a lifted SUV with a tow line came along and bailed everyone out.
As we headed back down the mountain everyone was looking for their perfect tree and they finally found them. We took the opportunity to do a little more sledding and have the climactic snowball fight!
Christmas tree hunting always ends up being a great adventure and we make so many wonderful memories. It is on our our permanent Christmas tradition list! Even if you don't want to look for a Christmas tree the fantastic views are worth a winter drive.
Another place we like to head to look is up Hwy 140 right after the Howard Prairie turnoff on the left. You can find quite a few roads to pull onto and then get to hiking to find that perfect Christmas tree!
If you decide to go look for your own Christmas tree make sure that you have contacted the District Office where you are interested in harvesting to check for current availability before you head out for a permit. All information is in THIS LINK, but they do start at $5 and they are FREE if you have a 4th grader in the house with an Every Kid in a Park pass.
Happy hunting!
For more Holiday Festivities and Events, Holiday Bazaars and Winter Fun make sure to check out our main page directory HERE.
Don't forget to follow us on Facebook, Twitter, Instagram, Google+, and Pinteres!