SNOWSHOEING at CRATER LAKE - FREE, RANGER-GUIDED, FAMILY-FRIENDLY
You know those days that are so perfect you wish could repeat them? This was one of those. When I registered Gary, Ilias, and myself for snowshoeing at Crater Lake I knew it would be fun, but when we actually go to it, I was overcome with awe at the amazing beauty that is Crater Lake in the winter. We visited in the summer and don't get me wrong it was awesome, but the snow covering everything just took it to a whole other level and the fact that it was ranger-guided for FREE, bonus!!
When we got there, we broken up into groups and we met our ranger-guide Emily and she got us set up with our snowshoes. Our group was a combination of couples and families from Southern Oregon of course but then we had father and daughter from Detroit, a couple from San Francisco, and a couple from Chicago. It was a good mix and everyone was really friendly and fun! The snowshoes were pretty easy to figure out how to get on, but there was a lot of help in case we needed it. What was really nice was that they had boxes of loaner items such as coats, sunglasses, and gloves in case we weren't dressed appropriately for the weather. It turns out we were over-dressed for the beautiful sunny day but, Ilias forgot his sunglasses so we were able to borrow some from them.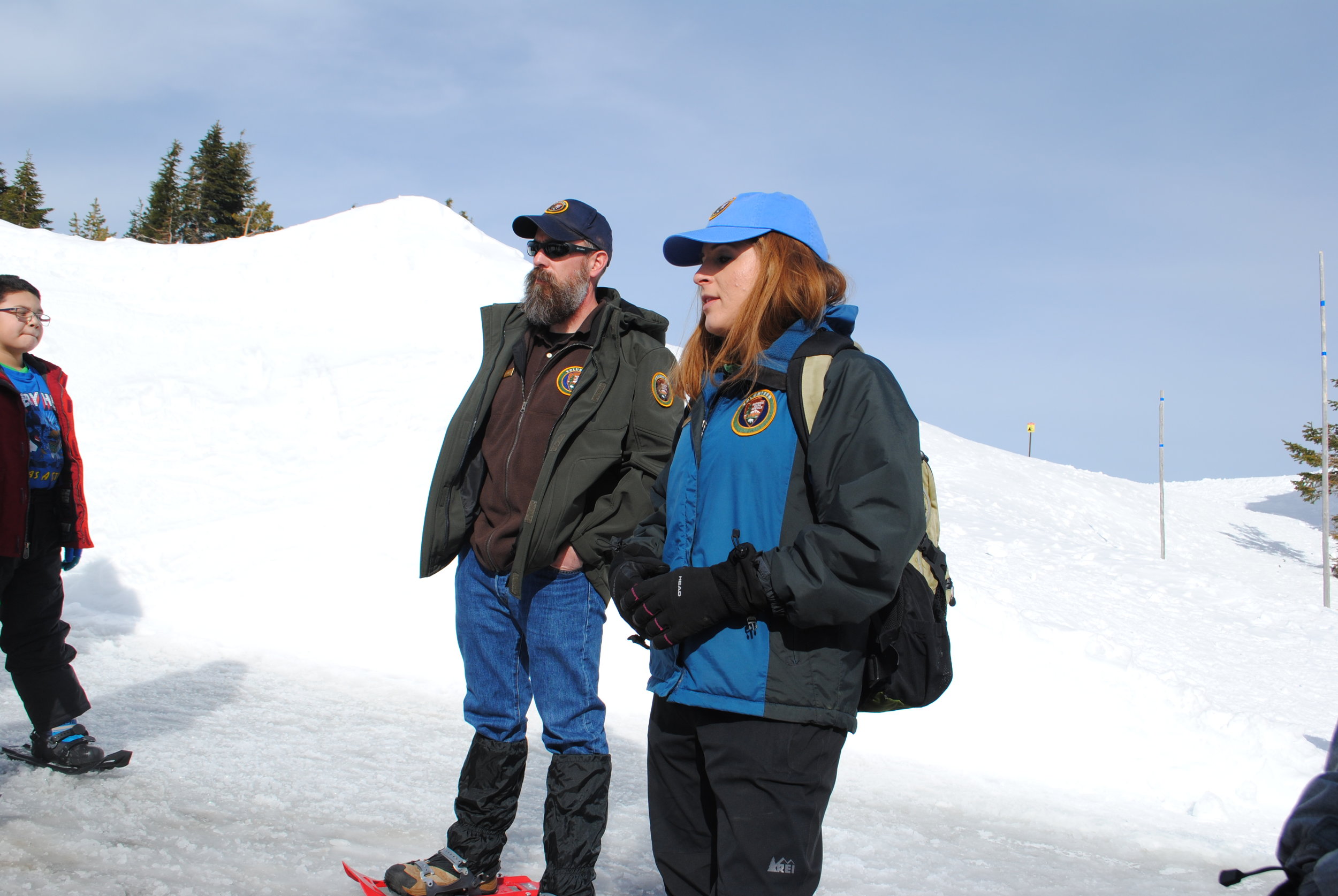 Once we were geared up with our snowshoes, we got started out on our adventure and headed out to an open meadow covered in pristine, sparkling white snow. I will tell you it took a little getting used to the snowshoes. I can only describe them as being like big metal flip flops. With each step you take, the frame and decking stay planted firmly on the ground with the crampons dug into the snow to keep you stable. The one tip Ranger Emily gave us was to stomp hard, if you felt like you were going to slip just stomp! Another thing that I found helpful was to walk like a duck when I was going uphill. It made it easier for me to make it up without slipping…along with the stomping.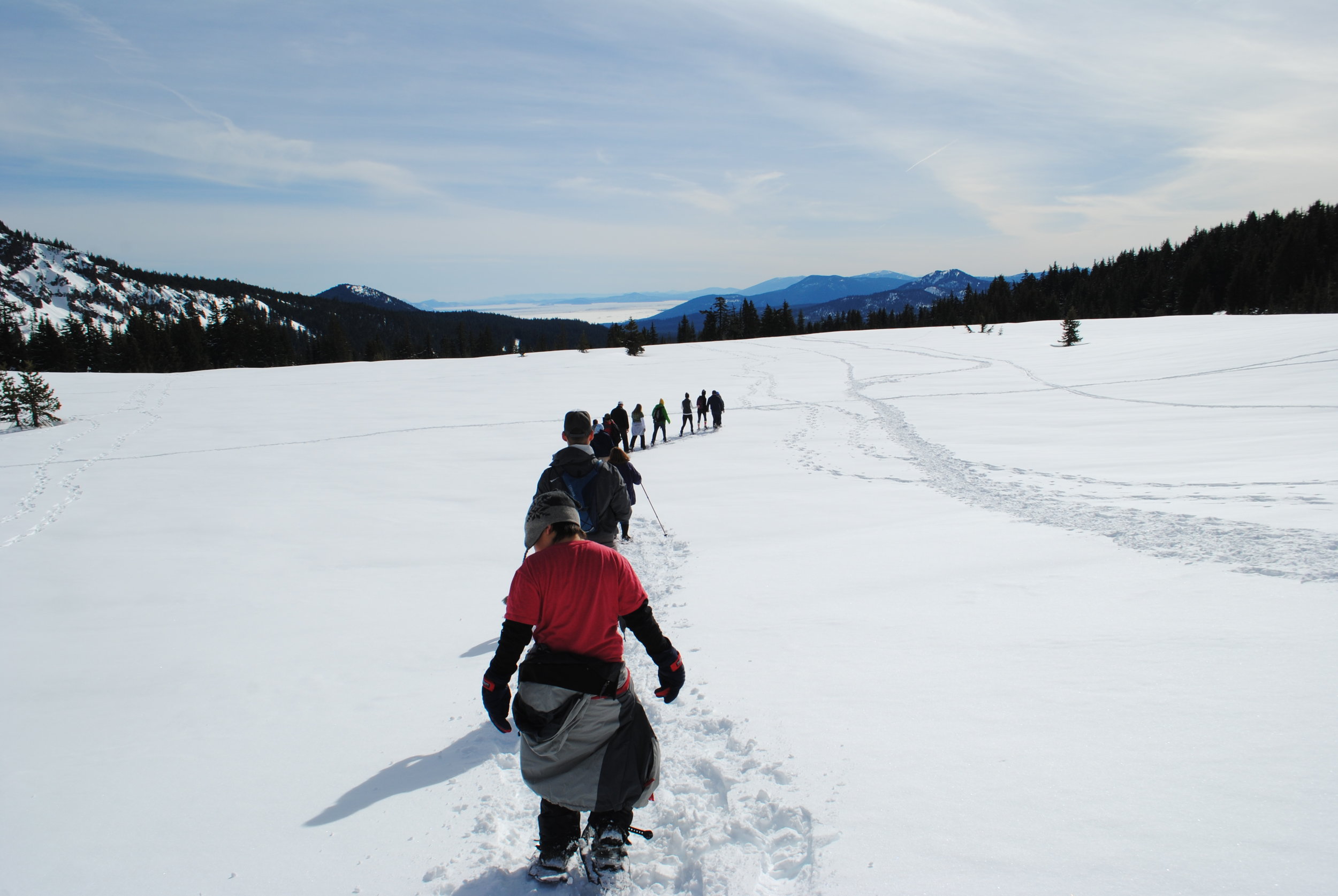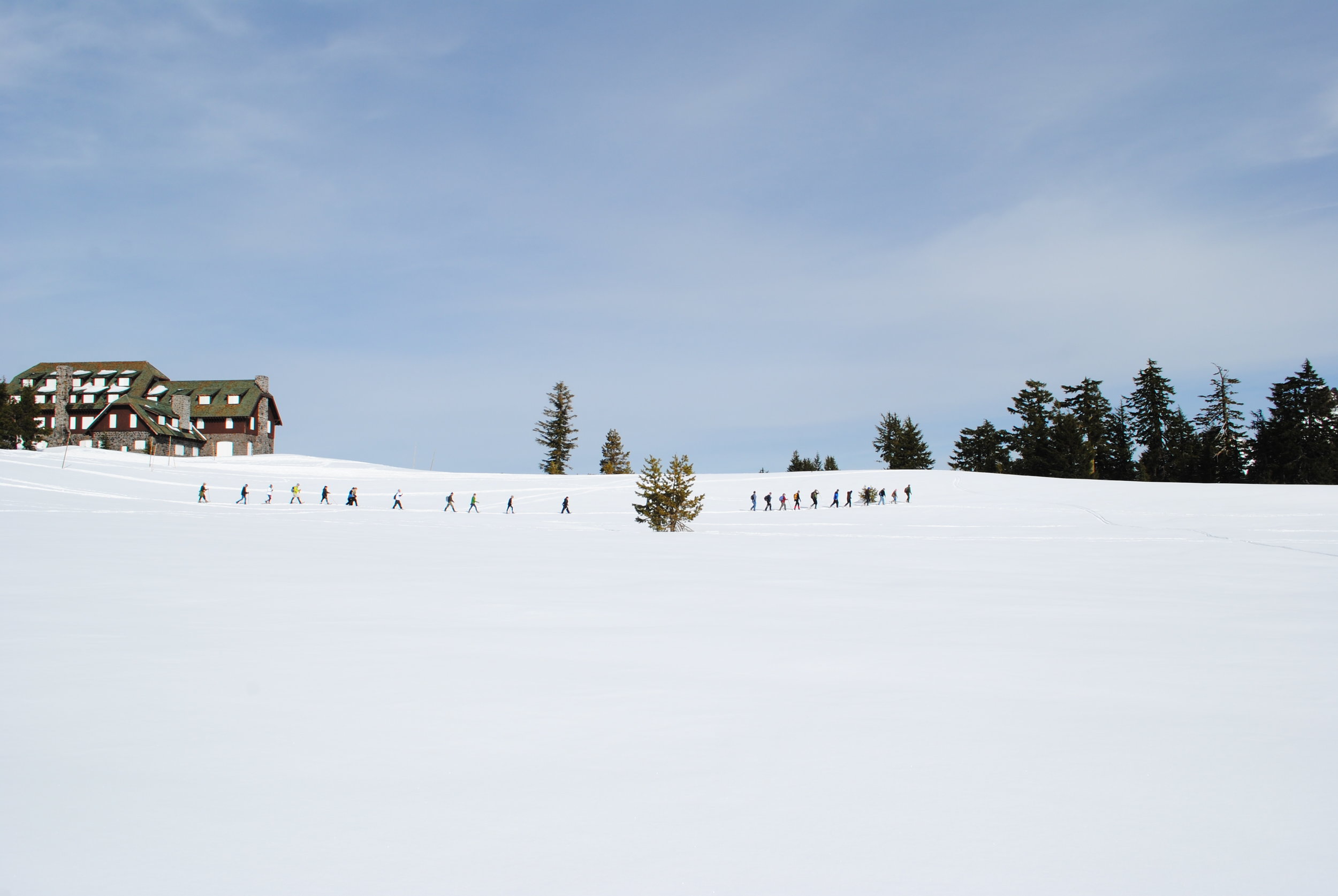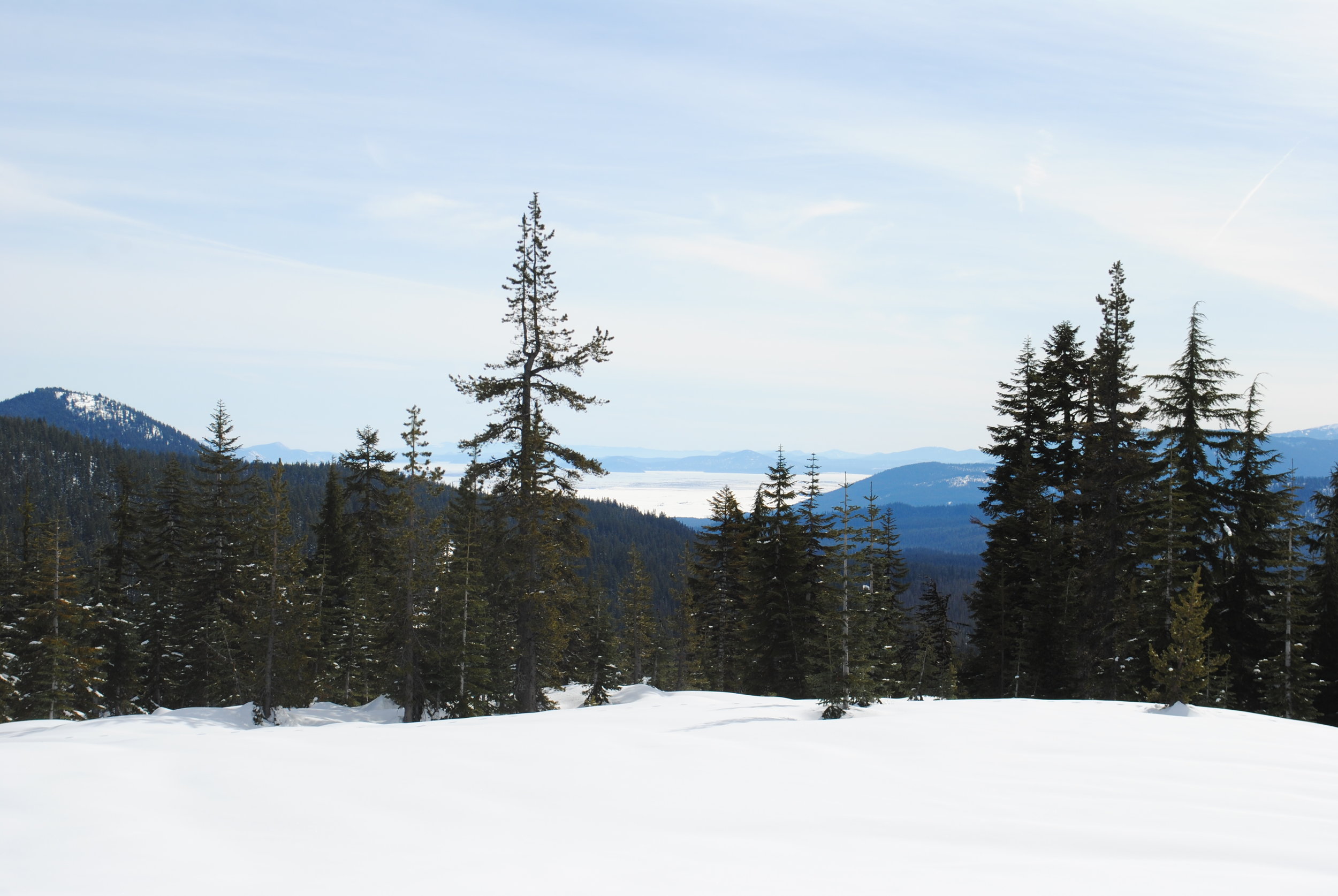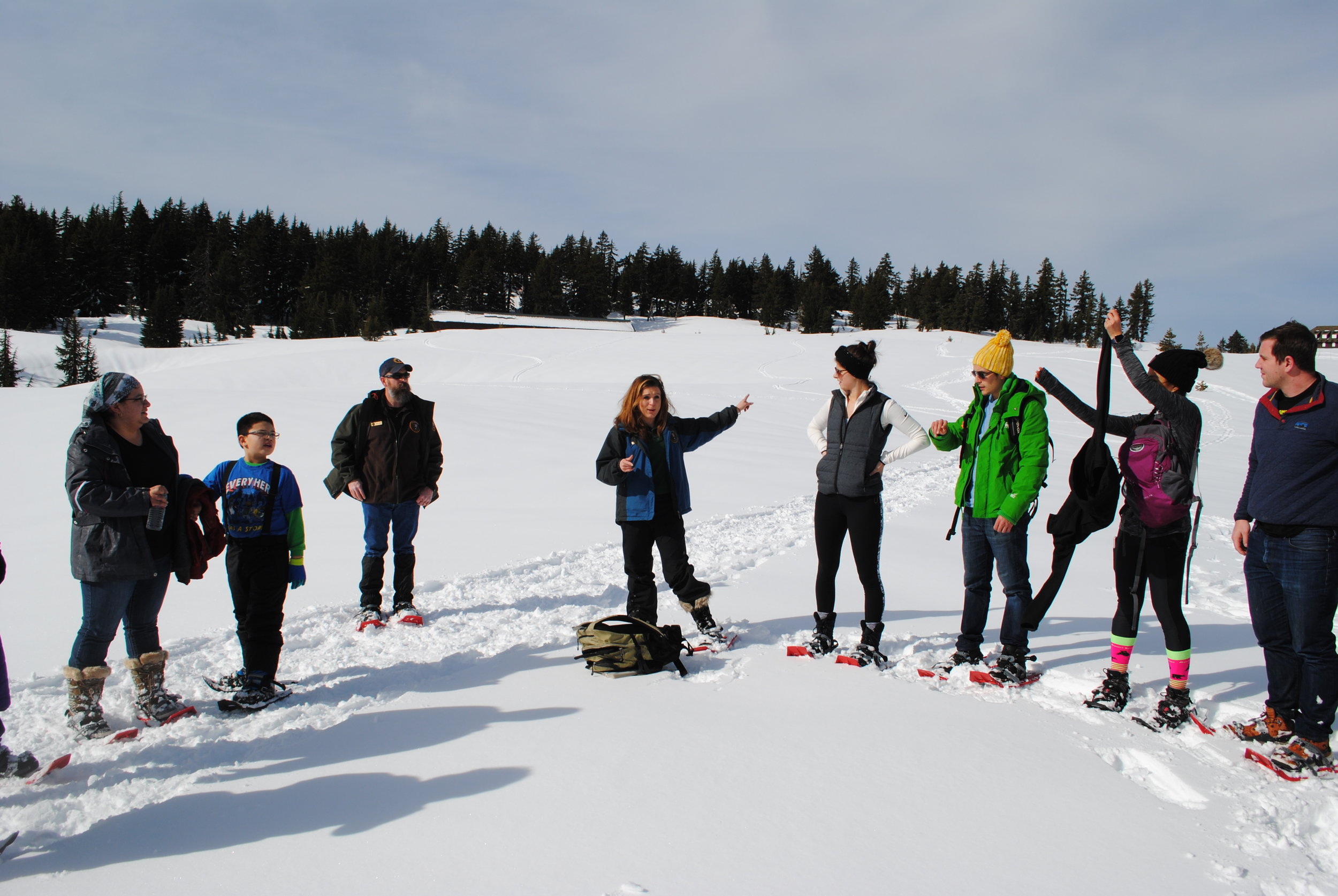 As we followed Ranger Emily we were treated to an amazing open view of the Klamath Basin. It was so clear that we weren't sure if we were seeing a lake or the basin (I'm so bad with directions, thank goodness I have Gary as my partner) but no matter, it was fantastic. She spoke to us about the depth of snow, the trees that survived the harsh winters, and what her role as a ranger meant. We moved on up the hill and stopped where we could test the flexibility of the Mountain Hemlock, they could bend the tip to touch the trunk they are so flexible.
As we snowshoed on we saw various animal tracks and for the grand finale we were taken to the rim to take in the breathtaking beauty of Crater Lake. No surprise, I was overcome with the magnificence of Crater Lake in the snow. We were lucky enough to have a sunny, blue sky day creating an almost unreal reflection on the frozen surface of the lake. It was almost as if someone painted it, it was so beautiful. After getting our pictures we hiked a little more to get back to our spot where we finished off the day which was right in front of Crater Lake Lodge. The snow is so deep we were right across from the third floor. Yah, I know crazy!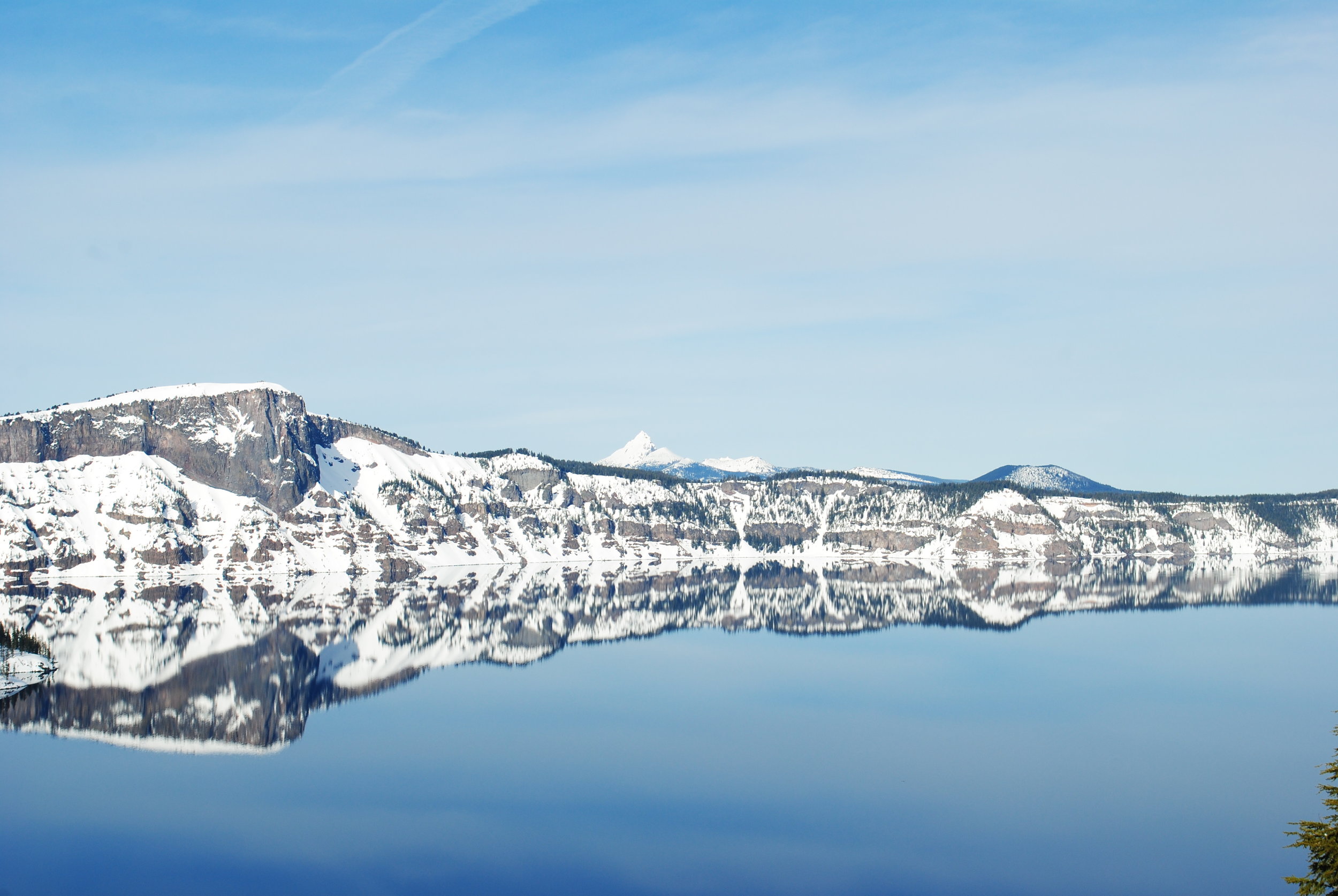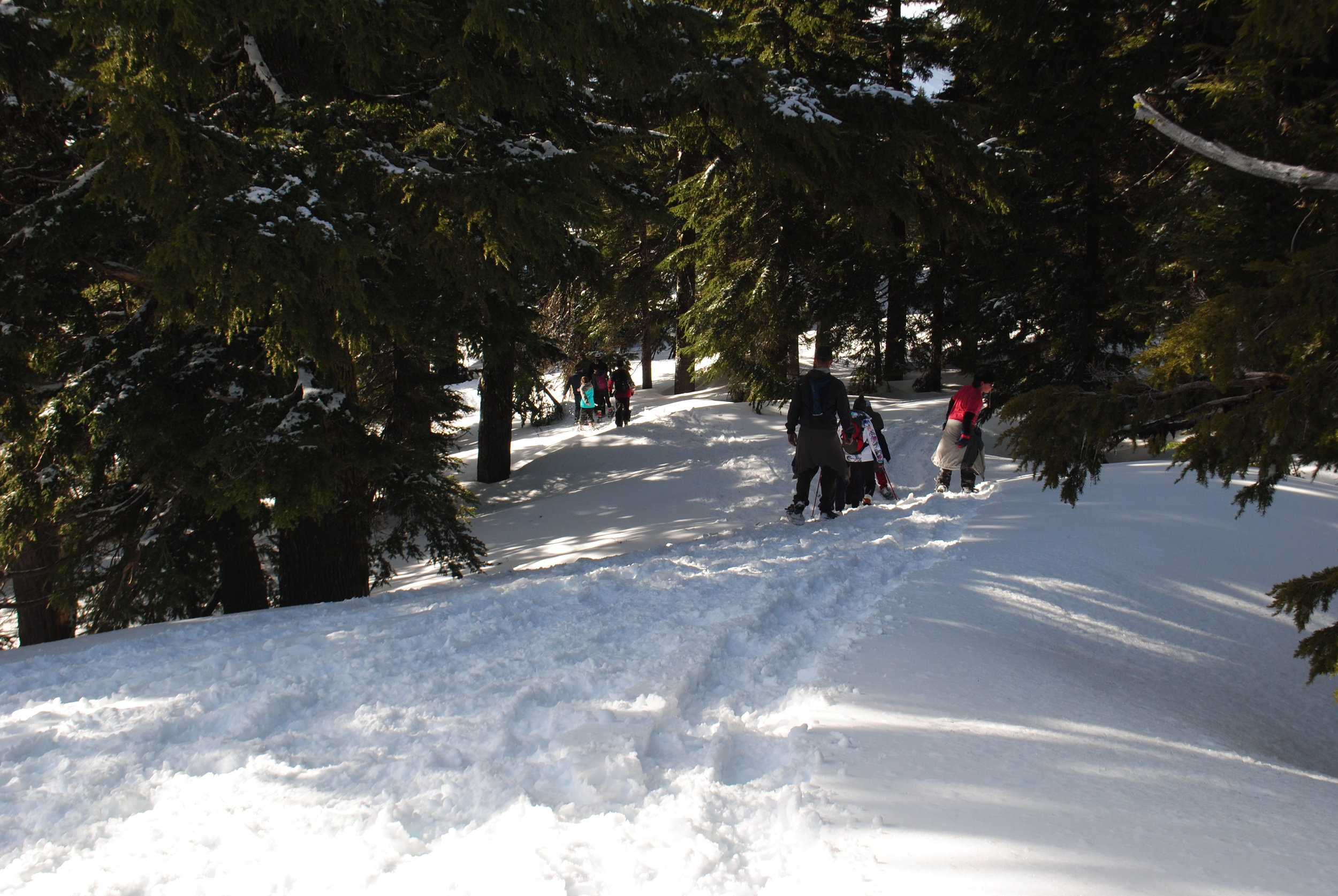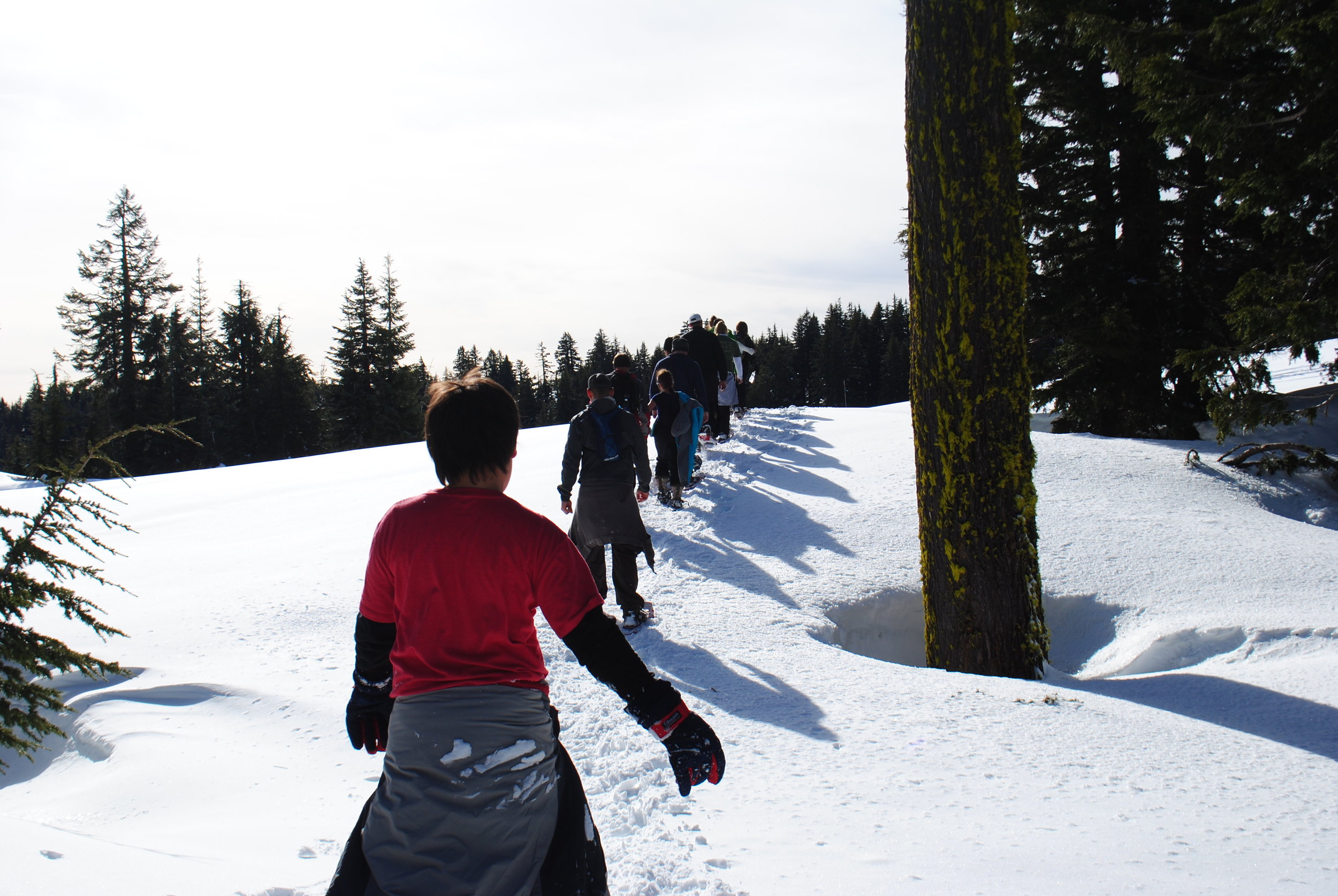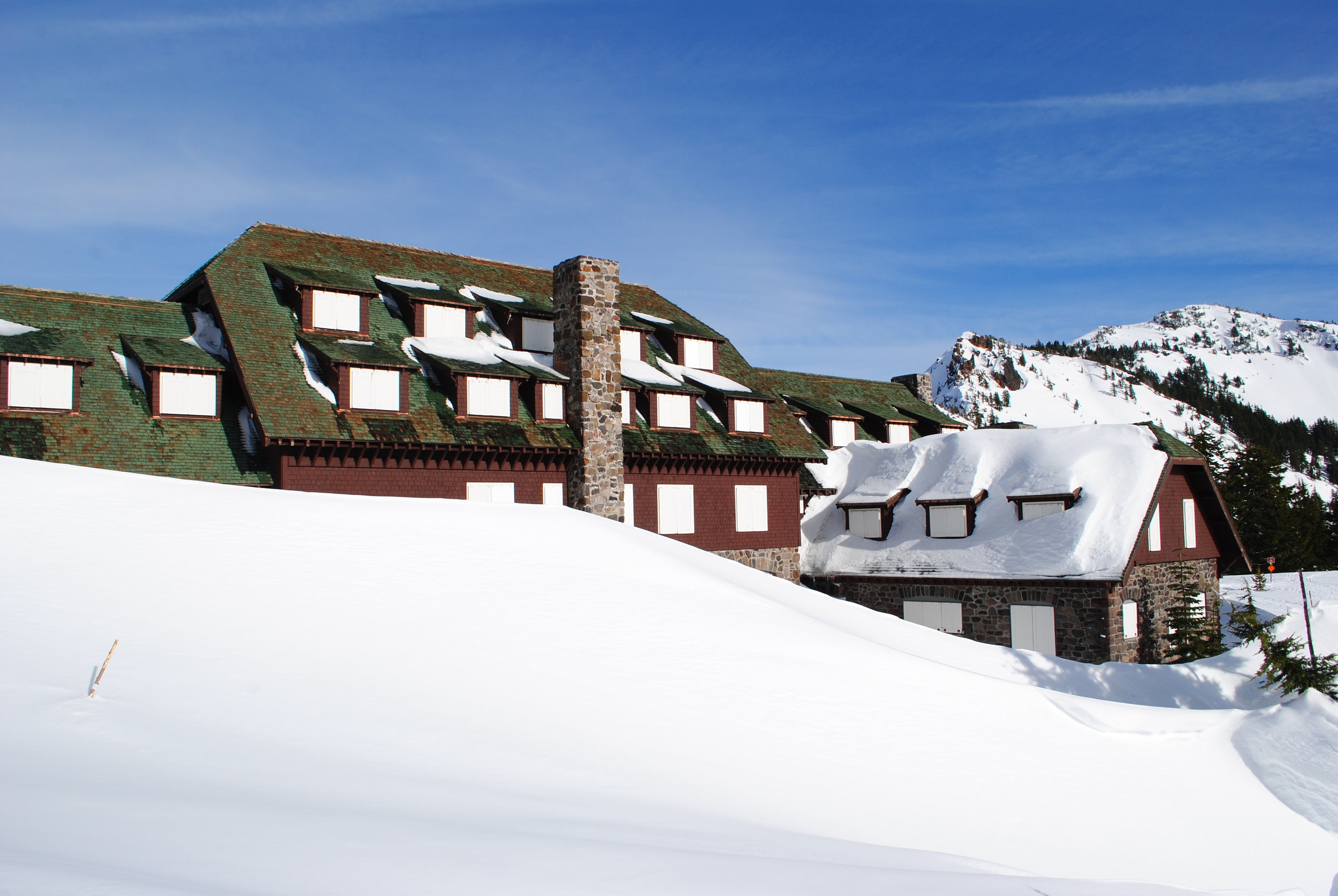 We decided to explore around the lodge a little to view the biggest icicle we have ever seen and then we caught even better, panoramic view of Crater Lake. I could have just sat there to meditate for hours if we didn't have to get back to Medford to pick up Olivia, but such is life and the end to one of the most memorable experiences of our life.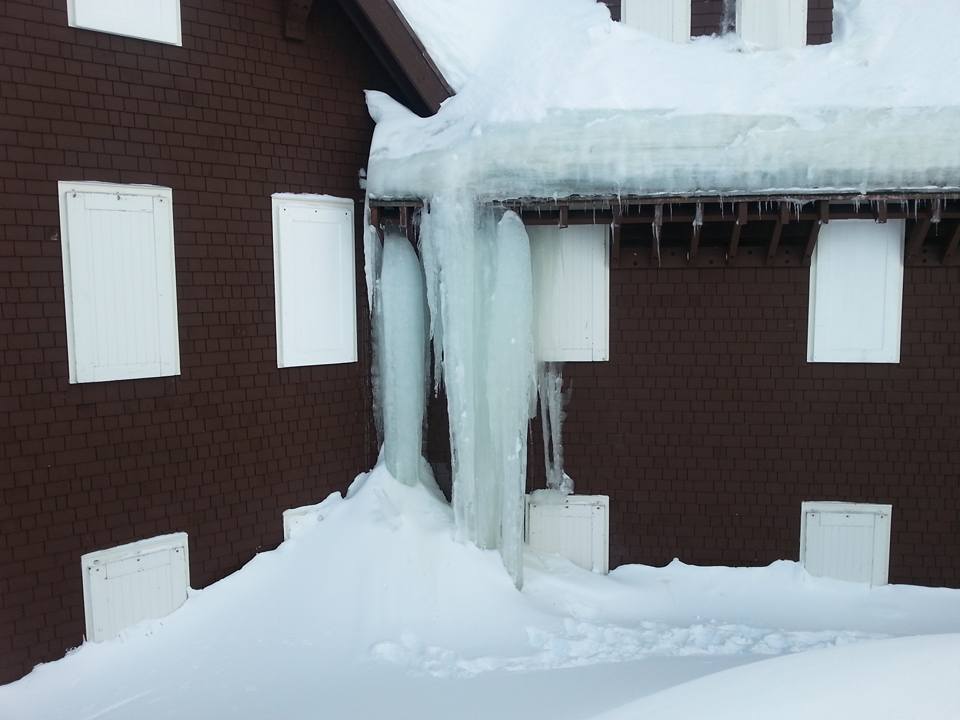 If you would like to go Crater Lake gives FREE Ranger-Guided Snowshoe Walks, Saturdays and Sundays, every weekend that weather permits from Thanksgiving weekend through the month of April. They provide the snowshoes and no experience is required. The age limit is 8 and up and they don't budge on this. I called to see if they would take my 4 year old who is an avid hiker (she has hiked to the top of Mt. Ashland) and they said no. You need to make reservations by calling 541-594-3100 from 10am-4pm, and after you register they will send you an email with all that you need to know. For details straight from the National Park Service go here.
A few suggestions: when we checked the forecast it showed a high of 35 for the day so we dressed very warm and it turned out we needed to shed some layers and that is okay. We went in October and we weren't dressed very warm basing our choice of clothing off of the forecast and we ended up in a snowstorm and couldn't even get a peek at Crater Lake because it was so bad. Needless to say, the weather is unpredictable up at Crater Lake so be prepared. If you are taking the ranger-guided tour you meet in front of the lodge so drive as far as you can because it is a bit of a walk if you park in the first turnout before the gift shop and rim café.
If you would like to rent your own snowshoes and take your smaller ones out, if the Crater Lake Gift Shop is open they rent them for $16 dollars for 24 hours and you can rent poles for $4. If you need other places to rent them, Northwest Outdoor Store rents them for $15 a day or $25 for two days. Ashland Outdoor Store rents them for $10-15 for one day or $15-25 for two days and they include poles. Mountain Provisions rents them for $15 for one day and $10 for each additional day.
We are hoping to get there again this year, hopefully with Olivia. We would pack a lunch and venture out on our own on an easier, flatter trail, so that Olivia can enjoy the experience with us.